Medicare is a federal health insurance program for people ages 65 and older and those with certain disabilities. Find out what's covered and not covered in Medicare Parts A, B, C and D.

Whether you are just making the transition to Medicare, or you are assisting a loved one seeking additional coverage, you may be wondering what does Medicare cover, what isn't covered, and how does it all work?
Learn at your own pace with this simple, free, no obligation online program.
How Medicare works
Check out this infographic for an overview of the parts of Medicare. Additional detail about Medicare Parts A and B is below.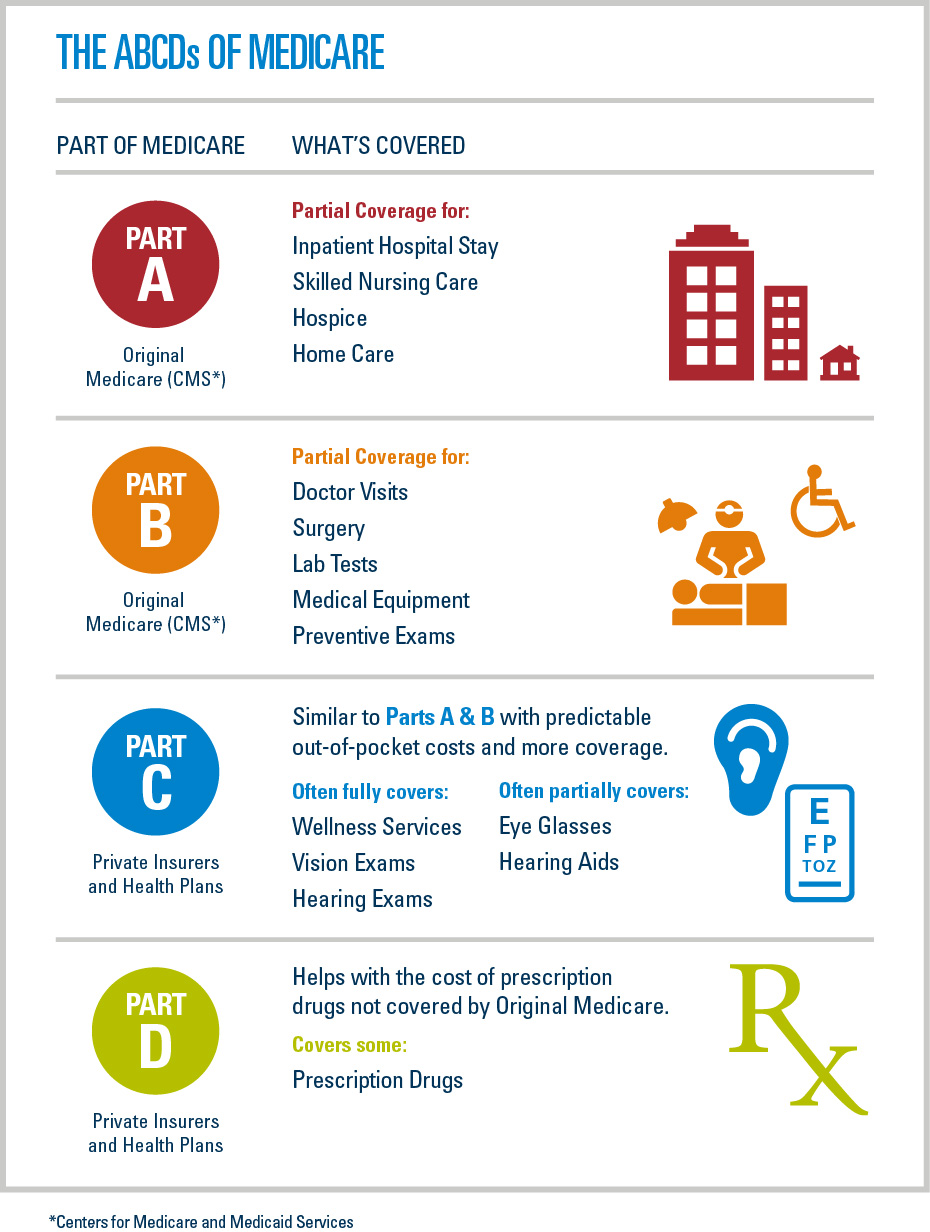 The ABCDs of Medicare:
Part A (Original Medicare (CMS*)) includes partial coverage for inpatient hospital stay, skilled nursing care, hospice and home care.
Part B (Original Medicare (CMS*)) includes partial coverage for doctor visits, surgery, lab tests, medical equipment and preventive exams.
Part C, or private insurers and health plans, is similar to Parts A and B with predictable out-of-pocket costs and more coverage. Part C often fully covers wellness services, vision exams and hearing exams. Part C often partially covers eye glasses and hearing aids.
Part D, or private insurers and health plans, helps with the cost of prescription drugs not covered by Original Medicare. Part D covers some prescription drugs.
*Centers for Medicare and Medicaid Services
Medicare Part A helps pay for inpatient care. It is offered at no cost to nearly everyone eligible for Medicare. The cost is usually covered by taxes you've paid throughout your working life. Part A benefits include:
Hospitalization in a semi-private hospital room, meals and other eligible services
Skilled nursing care after a hospital stay
Home health care visits ordered by a doctor, delivered by a Medicare-certified agency
Hospice care, including drugs to relieve pain
Medicare Part B helps pay for outpatient professional services and tests. Part B is available for a monthly premium. Part B benefits include:
Doctor's services in the hospital, clinic, doctor's office or home
Diagnostic tests, such as x-rays and lab tests
Medical supplies for diabetes testing, surgical recovery and durable medical equipment
Outpatient services for rehabilitation, diagnostic, treatment and surgery
What is not covered by Original Medicare?
Medicare Parts A and B do not cover all expenses. You are responsible for the following:
Paying your Part B premium (amount set by the federal government each year)
Deductibles, copays and coinsurance
Outpatient prescription drugs
Vision and hearing services
How can I fill the gaps in Medicare coverage?
You may choose to enroll in a Medicare supplemental plan, which offers coverage for health care or prescription drugs that Medicare does not cover. Examples of these types of plans are Medicare supplement (Medigap), Medicare Cost, Medicare Advantage, and Medicare Part D prescription drug plans.
Blue Cross and Blue Shield of Minnesota offers these Medicare plans:
More about how Medicare works
What will my Medicare expenses be?
Medicare well care visits
Medicare eligibility and age requirements
Get help understanding Medicare at a workshop
Review Medicare plan options
Learn about Medicare supplemental plans
Blue Cross offers PPO and HMO-POS plans with Medicare contracts. Enrollment in these Blue Cross plans depends on contract renewal.
Last updated September 30, 2018
H2461_092518JJ26_M 
H5959_092518JJ27_M 
H2446_092518JJ27_M 
S5743_092518FF06_M